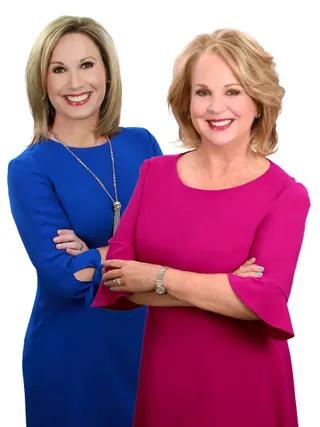 Global Real Estate Advisors
The Newton Kell Team – Honest, Trustworthy Service To All
The Newton Kell Team brings honest, trustworthy service to all with a combined 30+ years of North Texas real estate success. As respected global real estate advisors, The Newton Kell Team has earned a reputation for outstanding results. Among their accolades are top honors as D Magazine Top Producer, Fort Worth Magazine's Top Realtor and Southlake's Top Producing Agent and [...]
The Newton Kell Team – Honest, Trustworthy Service To All
The Newton Kell Team brings honest, trustworthy service to all with a combined 30+ years of North Texas real estate success. As respected global real estate advisors, The Newton Kell Team has earned a reputation for outstanding results. Among their accolades are top honors as D Magazine Top Producer, Fort Worth Magazine's Top Realtor and Southlake's Top Producing Agent and Team.
Together, Marilyn Newton and daughter, Theresa Kell, offer double the service and expertise delivering a client experience that is second to none. This service includes thoughtful consultations, strategic marketing plans, creative solutions, and the reach and resources of the world-class Briggs Freeman Sotheby's International Realty brand.
With 1000+ transactions under their belt, The Newton Kell Team understands the importance of building lasting client relationships. Their high standards and flawless attention to detail helps buyers and sellers navigate the market with ease, while garnering numerous repeat and referral clientele. If you are looking for a dedicated partner that drives results and puts your interests first, contact The Newton Kell Team. They would be honored to help you artfully buy or sell your North Texas home.
D Magazine Top Producer 2014, 2015,2016, 2017,2018
D Magazine Best 2018
Voted Top Realtor by Fort Worth Magazine in 2016, 2017
Voted Top Realtor for 360 West Magazine 2019
Southlake Top Producing Team 2018
Southlake Top Producer 2019
Office Location
4828 Camp Bowie Blvd
Fort Worth, TX 76107
Specifications
Languages:
Specialties:
Service Area:
The Newton's Testimonials
Working with Marilyn Newton has been by far the best experience I have ever had with a real estate agent. She is extremely professional. She has an eye for detail. Her 30 years work experience gives her an advantage over most agents. Your company is lucky to have her. With Marilyn's efficiency and her ability to deal with everyone involved, ny closing took less than a month. Well done, Marilyn. Well done, Briggs Freeman Sotheby's International Realty.
Debra C.
Marilyn Newton was my very first realtor over 30 years ago. She is the same, kind, efficient person today as she was back then. Marilyn takes a difficult, stressful process and makes it very simple by breaking it down into a few easy steps. She is very professional and has an enormously large wealth of information stored from years of experience. Most people do not have this encyclopedia in their repertoire, and it certainly comes in handy at a moment's notice! She doesn't have to call people [...]
Debra Campbell
Marilyn did an outstanding job guiding us all along the sales process. We ended up with an offer well above what we expected after only 10 days of being listed.
David and Ayn Topaz
Simply put - The Newton Kell Team are the absolute BEST in the business. My husband and I have bought and sold several homes in the last 20 years. The Newton Kell Team has represented us on the last three transactions and they will be the ONLY agents we will ever work with again, and the only agents we feel compelled to tell the world about! We are both sales leaders in our own industries, and thus personal relations, market knowledge and swift negotiations are essential to us in all business [...]
Mitch & Denielle G., April, 2019
Responsive, intuitive, creative in finding solutions. Always working to make sure client is well represented and happy.
Rebecca G Smithey
The Newton Kell Team are professional, knowledgeable and most important, honest. If you are in search of a realtor, Theresa Kell and Marilyn Newton are the ones to call! I highly recommend The Newton Kell Team.
Carolina P. from Mira Lagos
We listed our house in Lowe's Farm with The Newton Kell Team. They did a fabulous job staging, photographing & hosting an open house. Our house sold in two weeks! Theresa Kell and Marilyn Newton were always willing to help us in any way they could.
Mitzi P. from Hide A Way Lake
We have purchased seven homes with Marilyn, and successfully marketed and sold five others in the past twenty years. Marilyn is a total pro. She understands her clients' needs and works patiently and tirelessly to get results. She is extremely well-networked and respected in the elite tier of the residential real estate community. There is a huge difference in the experience and quality of agents, and we can't recommend Marilyn highly enough.
Chris & Amy Putnam, Colleyville
With so many unforeseen details required for a smooth transaction, Marilyn, with her decades of experience, presented the prioritized information in a manner easy to comprehend. The homebuying process can appear daunting, but Marilyn's personable demeanor and subtle humor made the experience a pleasure.
Jeff and Alex C.
The Newton Kell Team are attentive and honest Realtors. They focus on having local knowledge, expertise in the process, being responsive, and doing what's best for their clients. Choosing the right realtor is the most important decision when buying or selling a home and I highly recommend the Newton Kell Team.
Stacie G. from Grand Peninsula
Contact
Hi there! How can we help you?
Contact us using the form below or give us a call.
Hi there! How can we help you?
Contact us using the form below or give us a call.