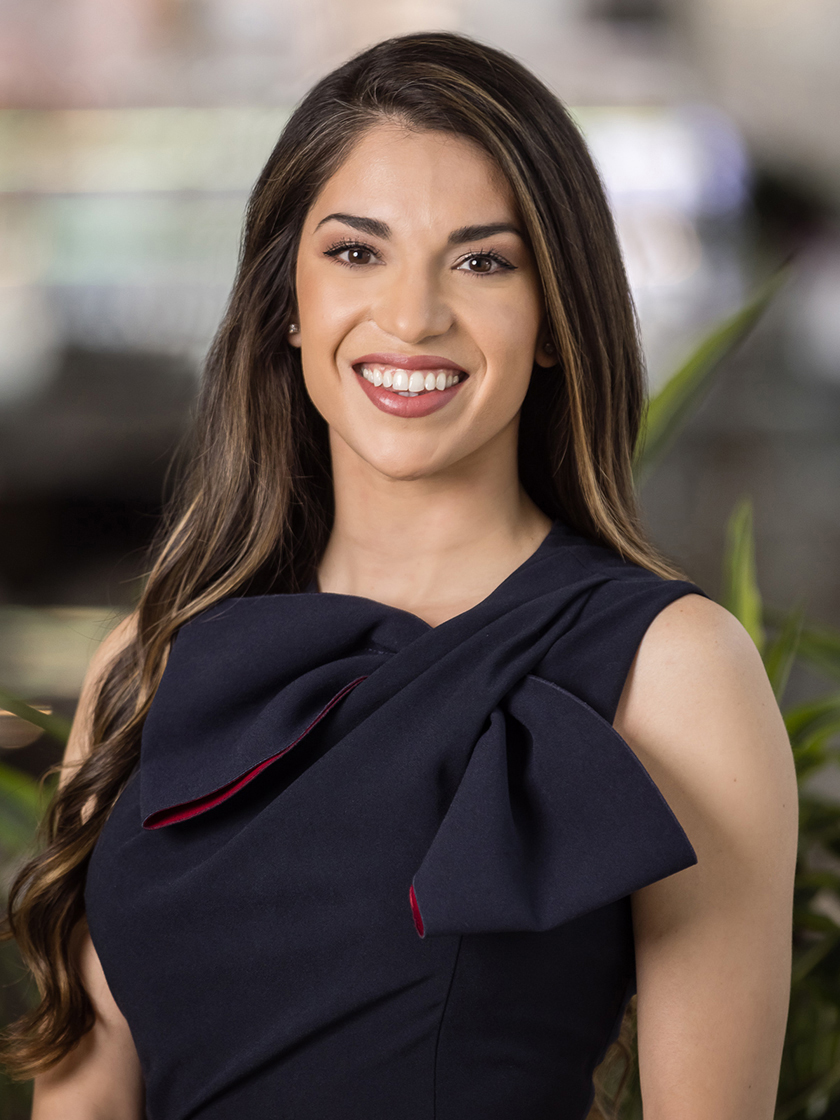 Global Real Estate Advisor
|
Sales Associate
Thanks to her comprehensive knowledge of the entire Dallas Metroplex, including areas as far north as Denton and McKinney, combined with her solid background in finance and wealth management, Sierra Tellez provides a singular package of skills and vital experience to the region's home buyers and sellers. That package includes white glove treatment for every one of her clients--from first-time homeowners and families to retirees and sophisticated investors. While covering such a sizeable [...]
Thanks to her comprehensive knowledge of the entire Dallas Metroplex, including areas as far north as Denton and McKinney, combined with her solid background in finance and wealth management, Sierra Tellez provides a singular package of skills and vital experience to the region's home buyers and sellers. That package includes white glove treatment for every one of her clients--from first-time homeowners and families to retirees and sophisticated investors. While covering such a sizeable geographic area can be daunting for many Realtors, that's not so for Sierra, who has spent most of her life in Dallas, living in many of its neighborhoods and surrounding communities. She offers unsurpassed market expertise when it comes to localized real estate trends, community services, cultural and recreational activities and, often most importantly, insight into the excellent schools throughout the district. She loves introducing clients to unfamiliar parts of the Metroplex, thereby expanding their home ownership possibilities. At the same time, by applying her experience as a financial adviser and wealth management associate at the highly respected firms Merrill Lynch and Morgan Stanley, Sierra delivers to her broad range of clients the level of guidance and advocacy they deserve. Able to skillfully ascertain their wants and needs, she is adept at keeping buyers and sellers on the path to achieving their goals. It follows that Sierra's goal is building meaningful lasting relationships by delivering the best possible service and results every step of the way. Those things are important to her as she gives back to the community. After volunteering for more than 5 years with the Big Brothers Big Sisters organization, she became a Court Appointed Special Advocate with Dallas CASA as a result of her intense interest in working with children in foster care. She also volunteers with Meals on Wheels and the North Texas Food Bank.
Office Location
3131 Turtle Creek Blvd, 4th & 5th Floor
Dallas, TX 75219
Specifications
Languages: English, Spanish
Specialties:
Service Area:
Sierra's Testimonials
Our experience with Sierra far exceeded our expectations! She was there day or night to help us navigate the process of selling and then buying our new home. Even with the height of emotions of losing the house we thought we wanted, she never skipped a beat with getting us re-focused to find the perfect home for us!
Monique R.
Great realtor! I would recommend her to everyone!!
Christopher Davidson
Sierra Tellez was our agent for both the sale of our home as well as the search and purchase of a new home. We couldn't have been more fortunate. Sierra brought outstanding thought leadership and guidance to both the sell and buy sides of our process. She was meticulous and precise in coaching us on how to prep, stage & price the sale of our home which lead to an outcome that exceeded our expectations. Throughout the search to purchase a new home, she was thorough in her diligence on [...]
Bradley and Kristina Johnson
Best realtor in Dallas! My home got a full price offer well over what I bought it for and I know we couldn't have done it without a great agent. So thankful.
Paul R.
My fiance and I worked with Sierra to buy our first home. She was incredibly open with her schedule and was more than happy to show us a house as quickly as possible. As soon as houses came on to the market that fit our wants, she would notify us. After we found our dream house, she worked with us tirelessly to make sure that our best interests were looked after. She offered the best possible experience buying a new home.
Meghan H.
We recently sold our first home with Sierra and it was as close to painless as this process could be. She came to our first meeting prepared with strong understanding of our current neighborhood and market conditions, but took the time to learn what made our home special. Her process combined with her strong pricing advice and connections in the market led to multiple offers within the first 48 hours of listing. We can't recommend Sierra enough, and plan to use her for all future real estate [...]
James & Jordan C.
Sierra Tellez is absolutely phenomenal when it comes to real estate agents. She is very professional, diligent, patient & helps during every turn of the buying process. She made our experience a pleasure and represented your agency incredibly well!
Chris and Kelly L.
First time home buyer and felt at ease through the whole process. Sierra Tellez made my life that much easier during the home buying experience. Will be recommending to friends in the area.
Russell & Laura Robinson
Sierra Tellez was outstanding to work with and made our move from California a success. We will definitely work with her again given her drive, professionalism, work ethic, and knowledge of the Dallas metro area. We will recommend her enthusiastically to anyone looking for an agent.
Geoffrey H.
We have worked with numerous realtors over the years - none of them compare with Sierra. Four things stood out to us during our purchase: she ALWAYS focused on our best interest, she knows the local housing market well, she is incredibly responsive, and she provided us with great ideas to make our offers more attractive in a VERY competitive market (most houses had between 10-25 offers).vWe were purchasing a house sight unseen because we live out-of-state. Multiple times she advised us not to [...]
Eric & Mariah
Contact
Hi there! How can we help you?
Contact us using the form below or give us a call.
Hi there! How can we help you?
Contact us using the form below or give us a call.