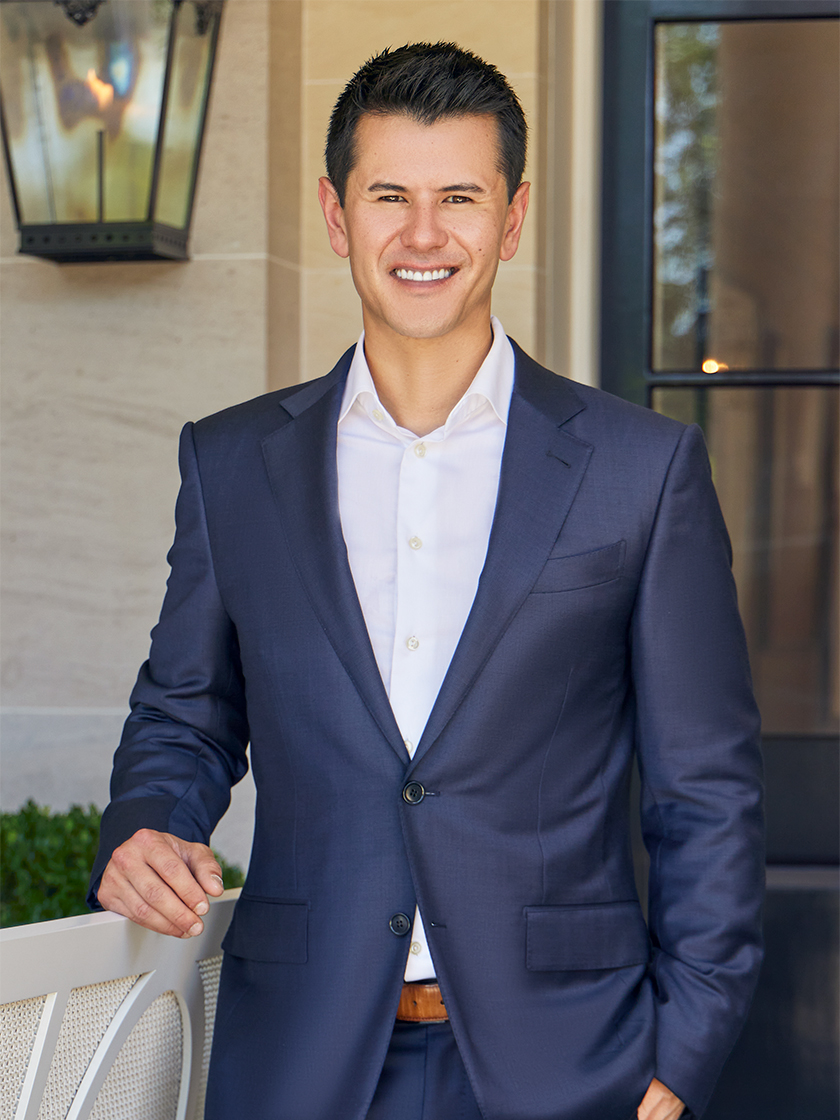 Global Real Estate Advisor
|
Sales Associate
Michael Wong is a trusted name in Dallas real estate. With more than a decade of experience and over $100 million produced in sales since 2021, his well-rounded expertise, extensive network of resources and earnest attitude have quickly earned him Top Producer status in the Dallas real estate industry. In 2020, Michael represented the buyer on the purchase of the largest residential land parcel in Preston Hollow at a record-breaking 16.5 [...]
Michael Wong is a trusted name in Dallas real estate. With more than a decade of experience and over $100 million produced in sales since 2021, his well-rounded expertise, extensive network of resources and earnest attitude have quickly earned him Top Producer status in the Dallas real estate industry. In 2020, Michael represented the buyer on the purchase of the largest residential land parcel in Preston Hollow at a record-breaking 16.5 acres.

A Dallas native, Michael knows this city like the back of his hand – there isn't a street he hasn't driven down. His intimate knowledge on Dallas' most established neighborhoods has allowed him to continuously provide a superior service that is unmatched. Born into a family of architects, Michael's love of homes and affinity for real estate developed early in life. His passion extends to educating his clients on current market conditions and every aspect of the overall real estate process. "When listing or buying your home, every detail counts," says Michael. From his insightful understanding of the nuances and trends of each neighborhood to the finishing touches, he consistently delivers an exceptional consumer experience from beginning to end. Michael's unwavering dedication to his clients is his driving force, resulting in loyal customers who rely on him to keep them informed.

Michael is a relentless advocate for every client he represents. His authentic ambition and creative eye for design allows him to conceptualize and execute customized marketing plans to showcase his clients' properties in the best light. During his free-time, Michael enjoys curating his nationally recognized Instagram page that boasts some of the most beautiful architecture Dallas has to offer.

Michael is a Highland Park High School alumnus, Texas Tech University graduate and member of Preservation Dallas and Park Cities Historic and Preservation Society. He currently resides in the Knox-Henderson neighborhood and enjoys running on the Katy Trail, gardening, photography and interior design.

William C., a repeat client says, "Michael knows the real estate market and can quickly ascertain your unique needs by asking the right questions. He has a natural instinct and the qualities needed to assist with the selling or buying of your home. Michael has a holistic understanding of the entire process, which should give anyone a high level of comfort that he will handle any issue that may arise."

Awards:

Briggs Freeman Sotheby's Largest Residential Deal, Representing Buyer: 2022
Briggs Freeman Sotheby's Top Producer: 2017-2022
D Magazine Best Realtor: 2016-2022
People Newspapers Top 20 Under 40 Honoree: 2019
Office Location
3131 Turtle Creek Blvd, 4th & 5th Floor
Dallas, TX 75219
Specifications
Languages: English
Specialties:
Service Area:
Michael's Testimonials
Michael and Ralph exceeded all expectations. They provided a great marketing plan and stretch goals for themselves. As absent sellers, we relied on them to manage the entire sales process. Couldn't be happier with our outcome. We cannot think of a thing that could have been improved upon!
Kevin Lippincott
Joan Eleazer is the best 10 STARS
Brenda Howard
Michael was a pleasure to work with. He provided sound advice regarding preparation of the home for listing and setting a price to attract more than one buyer. I appreciated Michael's hands on approach, including: he made some tweaks to the staging that enhanced aspects of the home; he made sure the property was ready to show each time a potential buyer came through; he was present when potential buyers viewed the home; he was very communicative and responsive. We have already mentioned his [...]
Mitchell and Bridgette Menezes
Michael has been great to have on our team while listing our home. He provides solid guidance, great communication and he had been very thorough during the entire experience. He is one of the best out there and I will always choose to work with him on any future real estate project.
Shawnon Bellah
Michael Wong was a referral from my son's commercial real estate group. From the start, Michael Wong IS an absolute professional all around. He provided an objective analysis of my property in the Knox Henderson area, realistic and best market scenarios, and advised me to perform some painting improvements which led to an immediately successful listing, offer, and seamless closing process within three days. He assisted me in the final details for staging in preparation for the live listing. [...]
Patricia Gottschalk
Working with Michael is both fun and educational. He helped my husband and I find the perfect home — and taught us so much about the Dallas real estate market. I can't recommend Michael enough. He really knows his stuff.
Chelsea C.
Went above and beyond expectations to ensure that the house was in optimal condition to sell. Extremely responsive.
Kevin Lippincott
Contact
Hi there! How can we help you?
Contact us using the form below or give us a call.
Hi there! How can we help you?
Contact us using the form below or give us a call.