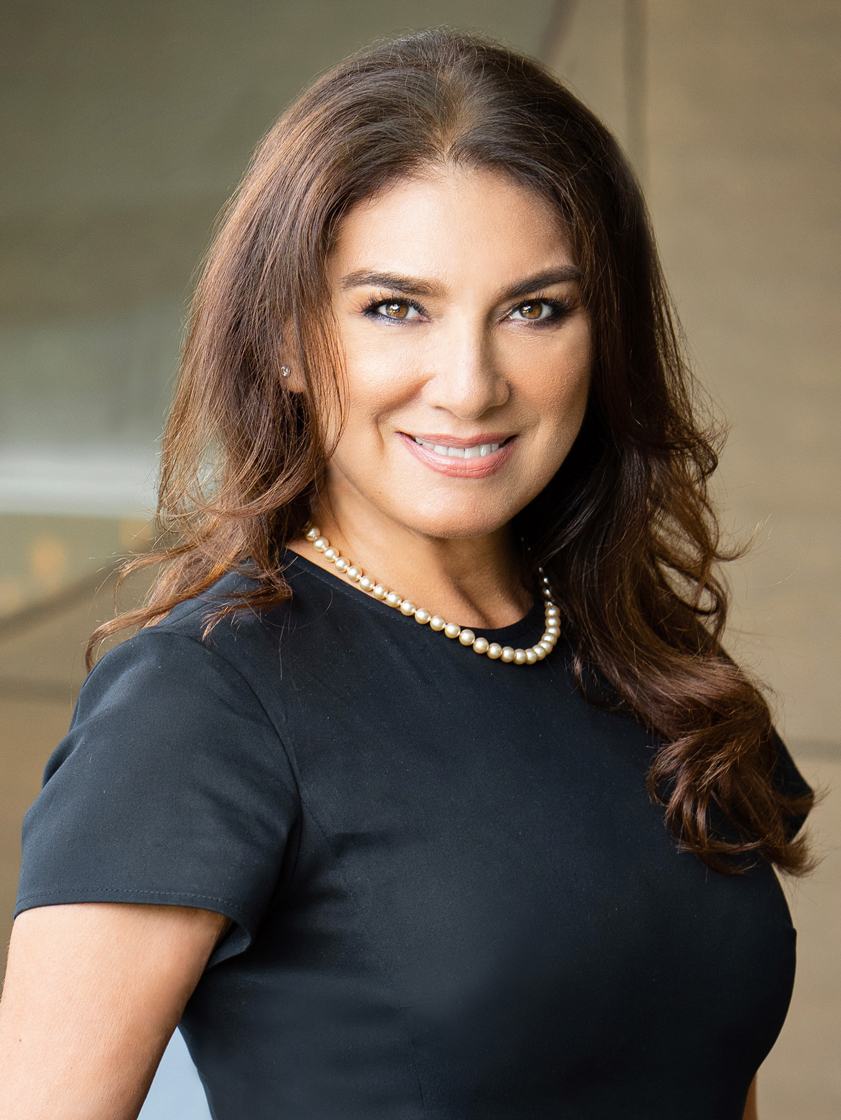 Global Real Estate Advisor
|
Sales Associate
Adriana Alvarez-Higgins was born and raised in Bogota, Colombia. After receiving her BA in Graphic Design and Graduate diplomas in Marketing Strategy and Business Management from the Universidad Javeriana, Adriana built a successful career in advertising and marketing in the banking and media and entertainment sectors. She moved to the United States in [...]
Adriana Alvarez-Higgins was born and raised in Bogota, Colombia. After receiving her BA in Graphic Design and Graduate diplomas in Marketing Strategy and Business Management from the Universidad Javeriana, Adriana built a successful career in advertising and marketing in the banking and media and entertainment sectors. She moved to the United States in 1999.

Adriana's educational and professional background coupled with her fluency in Spanish, and even more importantly, her business acumen, has well-positioned Adriana for a transition to residential real estate. In the Dallas-Fort Worth Metroplex, a geographically desirable part of the country where tens of thousands are flocking to live and invest from all over the world, including from Spanish-speaking countries, she has served as an ambassador for the area.

To enhance her already impressive credentials, Adriana took the step of achieving the "Certified International Property Specialist" designation from the National Association of Realtors®. Because international real estate transactions are significantly different and more complex than domestic transactions, from currency issues and financing to visa and tax laws, working with a REALTOR® who knows how to handle these differences is imperative. International real estate agents have access to a wide network of professionals to assist you with inbound or outbound transactions around the globe. There are only 3,500 international property professionals doing business in fifty countries, and Adriana is one of them. She also serves on the MetroTex Global Business Council.

Adriana has been in real estate since 2010. When she is not busy helping buyers and sellers across the globe connect, she enjoys spending time with family and friends or traveling and learning about other cultures.
Office Location
3131 Turtle Creek Blvd, 4th & 5th Floor
Dallas, TX 75219
Contact Info
Specifications
Languages:
Specialties:
Service Area:
Adriana's Testimonials
You not only get first class service you get a friend for life. Adriana treats her clients with the upmost care. I have worked with her for years and have referred her often. It's always a great experience working with her; her attention to detail is outstanding.
Claudia Sanchez Cantu
Relocating from out of state (during a pandemic), starting a new job and buying a house all at the same time can be a bit stressful. Partnering with Adriana to buy my home in Dallas was the best decision I could have made. Her knowledge and intuition made the search and buying process so easy. Nearly a year later, she's still happy to answer my questions and help me make all the necessary connections to ensure my home is exactly that -- a home!
Trever
Our wonderful and capable agent, Adriana Alvarez-Higgins was thorough and so professional!
BK Open Water LLC
Adriana is a delight to work with for selling and purchasing a home. I truly appreciated her efforts to help me get my prior home ready for sale, including plant shopping and planting for extra curb appeal. Through some difficult selling moments, Adriana was positive and always managed to calm me down. Whether you are looking to rent a home or purchase, if she isn't familiar with a particular area, she does her research to ensure you're making a sound financial decision. I would definitely [...]
W. Amberson
Adriana is The Best realtor I have ever worked with!!! She cares very deeply about her clients, doing her job well and keeping the process moving smoothly along. I highly recommend choosing her as your realtor.
Stephanie Strangis Dynasty Trust
Adriana was very professional, knowledgeable and helpful in all aspects of our sale. We enjoyed working with her tremendously. I would highly recommend Adriana to anyone buying or selling a house!!
Estate of Hortensia O'Campo
We recently sold a house and purchased a new home with Adriana Higgins and while this can be a very stressful process, I felt 110% confident by partnering with Adriana. I have to say that Adriana is by far the BEST realtor we've ever worked with. Everything was great...her professionalism, personality, attention to detail, responsiveness, candidness, providing great feedback, helping explain clearly all details, and managing the actual sale negotiation brilliantly. If you are looking for an [...]
Bobby Underwood
We have worked with Adriana Higgins several times over the years and she is becoming one of the top agents in the market. She is a prompt and efficient professional with great real estate experience and recommendations.
Bond Family Trust
Adriana knows her stuff. A true pro. And she does something we found very interesting - she LISTENS to her clients. Imagine that!
BK Open Water LLC
Adriana was amazing . She always goes above and beyond. She works night and day, always answers our calls and keeps excellent communication. Extremely professional. Everything was great.
Alejandro and Clara M.
Contact
Hi there! How can we help you?
Contact us using the form below or give us a call.
Hi there! How can we help you?
Contact us using the form below or give us a call.