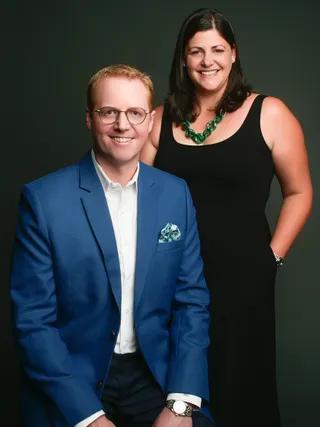 Global Real Estate Advisors
"The Wood Davis Group is a top producing team at Briggs Freeman Sotheby's International Realty, the Number 1 luxury real estate brokerage in Texas. Brian Davis and Kay Wood both possess a passionate knowledge of exceptional homes that are architecturally significant, whether contemporary or historic, large or [...]
"The Wood Davis Group is a top producing team at Briggs Freeman Sotheby's International Realty, the Number 1 luxury real estate brokerage in Texas. Brian Davis and Kay Wood both possess a passionate knowledge of exceptional homes that are architecturally significant, whether contemporary or historic, large or small.
Wood is a Dallas native who joined Briggs Freeman in 2006, and whose successful background has been widely heralded in the industry. Davis is an SMU alum and has been proudly active in Oak Cliff for over two decades.
Their extensive local knowledge and hands-on, client-centric approach have earned them accolades in the local media. Advocate Magazine has named them both Top 25 Realtors in the area, and both have been recognized by D Magazine as Best Agents and Top Producers.
The Wood Davis Group specializes in Oak Cliff, the Park Cities, Preston Hollow, the M-Streets, Lakewood, Uptown, Oak Lawn, the Downtown Arts District, Bluffview and beyond.
This dedicated team has a deep appreciation for the Sotheby's International Realty brand, mission and company culture. With a forward-thinking real estate investment strategy and decades of combined experience, the Wood Davis Group is the ideal advisor for anyone looking to buy or sell their next home."
Office Location
3131 Turtle Creek Blvd, 4th & 5th Floor
Dallas, TX 75219
Specifications
Languages:
Specialties:
Service Area:
Wood Davis's Testimonials
I found Kay Wood most agreeable to discuss my position regarding the marketing of my home in Lake Highlands. She is well experienced in all matters Real Estate, and thoughtful and understanding. I would be comfortable to recommend her to others planning to buy or sell their home. Mary Jane Ligon
Mary Jane Ligon
Brian Davis was an absolute pleasure to work with - not to mention fun! We first called Brian to visit our home, to give us an estimate on what we could sell it for. Upon arrival, he already had a buyer in mind. We had an offer before suppertime that night.
Jen and James M.
Kay represented the seller of a house we were interested in that had some unusual features and conditions. Kay responded to our questions promptly and accurately. We did not ultimately buy, but she represented her client well and was very pleasant to work with.
wpstewart7 via Zillow
Brian is an Oak Cliff expert, a psychiatrist, and a girl's best friend...what more could you ask for in the person helping you with the biggest purchase of your life?
Meredith S.
Kay was able to approach the issue of selling our home without interrupting our life unnecessarily, and she also kept what was important at the forefront. She is the best at what she does - and it doesn't hurt that she is fun and easy to be around.
scpollan via Zillow
This is our 2nd big move with Brian and we couldn't have gotten through it without his expertise, professionalism, and guidance. In this crazy market, we have relied on Brian to lead us through the process, help us with the best decisions to get out home sold in the best situation possible. Through all the ups and downs, we have been amazed at how other realtors are impressed by Brian's professional demeanor at every turn. We are grateful for the Wood Davis Group and for walking with us on this [...]
Michelle and Michael Meals
Relocating from Atlanta to Dallas during a pandemic, on a time crunch & in a competitive housing market, should have been stressful & emotional; however, working with Brian Davis as our realtor, I would dare to say the entire experience was actually pleasant. Brian helped us to find our new home & in the process we also made a new friend. When my job informed me that I was being transferred, Brian came to us via a referral from a neighbor in Atlanta. From our first phone call, Brian was [...]
Bobby Shane Palmer
I have worked with many diffferent agents during the course of my life - having bought and sold 8 different homes. Brian Davis is the first [and only] agent that I have fully trusted. He had my best interests in mind at all times and when giving advice, illuminated every aspect of a situation. He is direct without being rude and friendly without being familiar. He was the consumate professional at all times. He was the selling agent for the last house I bought and I knew he would be my agent [...]
David Ross
We so appreciate Kay's professional counsel and representation in the selling of our home. She truly advocated for us and helped us to keep as much of our sales price as possible while being fair to our buyer. She made herself available to us through the entire process, start to finish. I highly recommend Kay Wood and her firm, Briggs Freeman Sotheby's!
Stacy and Mauro Cianciulli
Our Agent did a wonderful job of finding the right house with potential in a beautiful neighborhood and was very helpful in selling the house 4 years later.
Sean and Kimberly C.
Contact
Hi there! How can we help you?
Contact us using the form below or give us a call.
Hi there! How can we help you?
Contact us using the form below or give us a call.