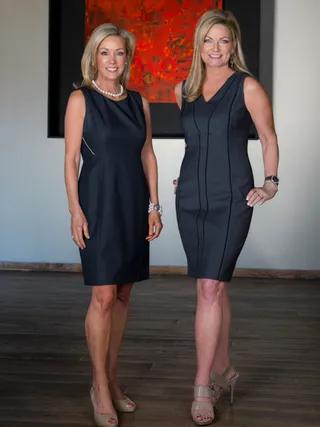 Global Real Estate Advisors
Unmistakable Intuition. Remarkable Style. Unmatched Market Knowledge and Insight. The Winchester / Steitle group has never lost sight of doing the right thing for their clients at all times. They are keenly aware that their clients have many choices when selecting real estate representation. To provide the best representation and marketing reach, they partnered with a well-known brand, Briggs Freeman Sotheby's International Realty, and leveraged it into the local, national and [...]
Unmistakable Intuition. Remarkable Style. Unmatched Market Knowledge and Insight. The Winchester / Steitle group has never lost sight of doing the right thing for their clients at all times. They are keenly aware that their clients have many choices when selecting real estate representation. To provide the best representation and marketing reach, they partnered with a well-known brand, Briggs Freeman Sotheby's International Realty, and leveraged it into the local, national and international market.
Their reputation has been built over decades of gaining the respect of not only their clients but their peers. Their proven track record and production have been consistently stellar. The group believes that their synergy together lets them discover new solutions to old problems and through the process of creative cooperation, they bring a combination of experience and expertise to the table. Most importantly, they understand that the most unforgettable memories are made at home.
Office Location
7301 Lone Star Drive, Suite A-115
Plano, TX 75024
Specifications
Languages:
Specialties:
Service Area:
Winchester | Steitle's Testimonials
Patti was amazing. She was incredibly professional and thought of every detail. She guided us through the selling process with incredible grace and confidence. She went above and beyond in every aspect. We can't praise her enough.
Doug and Linda G.
Maureen is an established professional who is very knowledgeable and in tune with her clients. Maureen's familiarity of the area, professionalism, connections with other agents and attention to detail were qualities we wanted in the person we trusted to help us find our next home.
Leigh and David B.
Maureen is amazing! She is my go to realtor and I often refer her to friends and family as well. 5 stars for sure!
Angela Deaton
Outstanding experience!! Patti and the team delivered above and beyond expectations!
Jay & Meredith Bach
Sotheby's International Realty was the best firm in this market to take advantage of the move to Texas, especially from CA and NY where homes have been priced well for years. Patti Winchester and her full team of experts was the best choice for my home due to their local experience in this area. They are an impressive team, full time 7 days a week and each member assures their function is working to properly market and close my home. From the professional pictures to the focus on every [...]
John Labunski
Patti, you are amazing at what you do. I could spend hours singing your praises. You are very responsive. You always made us feel like we were your only clients. In short, you rock.
Matt and Laurie P.
I greatly appreciate all aspects of the relationship!! The professionalism! Having a necessary realistic conversation about what is needed to sell the home! Willingness to take the extra step and be available for all of our questions as well as bringing resources to us! I appreciate the reputation of the firm and most important the work that was accomplished by Patti Winchester!
Jay and Meredith B.
Patti is knowledgeable, cares about her clients, and goes out of her way to take care of them. She is the best I have worked with in many house purchases and sales.
Louise L.
Patti and Amy were awesome to work with. They helped us find the perfect home, even during this crazy buyers market. They were extremely attentive and patient as we navigated through the process and were always extremely helpful. I would definitely recommend them to anyone in the market to buy or sell.
Jordan & Kendra Lovelady
Patti and Amy were great to work with. We had worked with Patti in a previous transaction and the experience was great, so we decided to work with her again. The experience the second time around was just as good. Patti and Amy were very patient with us and overdelivered on our expectations, especially in this current crazy market. They went above and beyond and we could not have successfully navigated the housing situation without them.
Jordan and Kendra L.
Contact
Hi there! How can we help you?
Contact us using the form below or give us a call.
Hi there! How can we help you?
Contact us using the form below or give us a call.