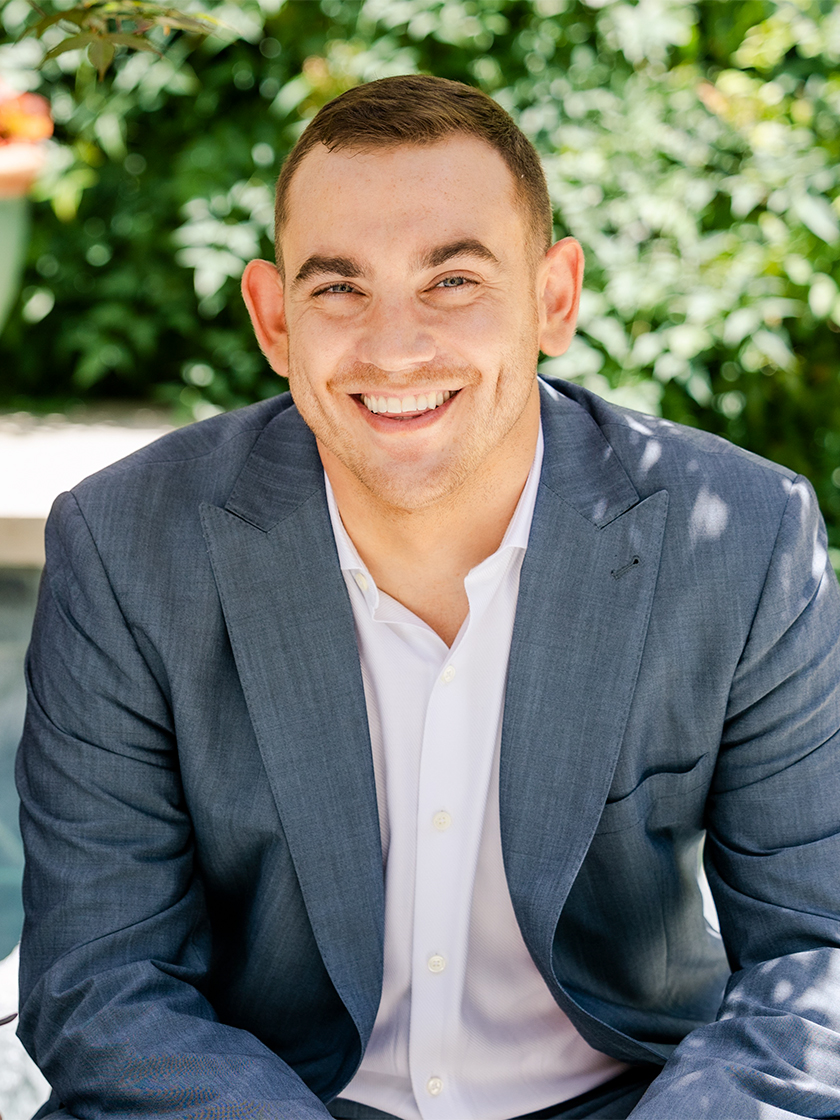 Sales Associate
|
Sales Associate
A Dallas native and marketing specialist, Ted Bangs is a knowledgeable and tireless real estate agent who is completely dedicated to serving his clients. Coming from a background of marketing and branding, Ted transitioned into real estate when he realized that his love for the industry paired well with his ability to relate to people. Ted's clients choose him for his honesty, personality and commitment to respectful service. Ted grew up in the Preston Hollow area of Dallas. He credits [...]
A Dallas native and marketing specialist, Ted Bangs is a knowledgeable and tireless real estate agent who is completely dedicated to serving his clients. Coming from a background of marketing and branding, Ted transitioned into real estate when he realized that his love for the industry paired well with his ability to relate to people. Ted's clients choose him for his honesty, personality and commitment to respectful service. Ted grew up in the Preston Hollow area of Dallas. He credits his success to all the amazing families, friends and associates whom he has met during his nearly thirty years of living in this city. He is thankful every day that he can live and work in his hometown. As a REALTOR ®, he uses his wealth of local knowledge and social influence to fuel and grow his business. A graduate of the University of Texas at Dallas, Ted earned a degree in Emerging Media and Communications. The combination of his education and his instincts about social marketing for business allow him to take advantage of the increasingly digital nature of the real estate industry. Ted promises transparency, respect, and a high level of competency to his clients as they work together to achieve the clients' goals. Ted is a Chairman of the North Dallas MLS. In this role, he organizes speakers and sponsors for the REALTOR ® meetings in Highland Park, University Park and Preston Hollow.
Office Location
3131 Turtle Creek Blvd, 4th & 5th Floor
Dallas, TX 75219
Specifications
Languages: English
Specialties:
Service Area:
Ted's Testimonials
Ted and Matt were professional, diligent and creative in finalizing the sale of our home. We couldn't ask for better service!
Nelson & Vera Bangs
Thank you Ted for our new home.
Oleg & Tatyana Temchenko
Matt and Ted were both very professional and absolutely loved working with them. Our property was very much a challenge and they succeeded where three other sets of realtors failed. They represented us and got top dollar for our million dollar property. I would highly recommend them to anyone looking to sell or buy a home.
John Vasquez
I love these guys! Working with Matt and Ted is always a privilege. They are responsive, communicative, and always take the best care of each and every customer. Partnering with them on a transaction is always a joy and I know it will be smooth and seamless. These guys KNOW the local area, are a class act, and will get it done! You're in good hands!
Christian Johnson
Ted helped my wife and I find an excellent first home. After learning what we were looking for, Ted came to us with a number of good options. After we found the right fit, Ted was able to help us execute everything in a timely and hassle free manner. I would recommend engaging the Bangs + Wilkerson Group for anyone looking to buy, sell or lease.
Max Wensinger
Ted found me the perfect place. He made it a fast and easy process (but not rushed) and helped get me a great deal. Will be using Ted again whenever I am in the market and I would highly recommend him. Thanks Ted!
Jackson Smith
Ted was phenomenal to work with as we were buying our first home. He is very knowledgeable and guided us through the process seamlessly. Highly recommend!
Valerie Hayes
We had a high-end niche house that would require a very specific type of buyer. Matt and Ted persevered and succeeded in selling our house against the forces of a pandemic and a brutal winter storm. That was a feat all its own, but what I admired the most was their advice and knowledge of the industry and market. Selling your "home" is emotional and personal and they balanced that perfectly with the "business" of a sale. Thank you Matt and Ted! You guys were amazing!
Lyle Ellerbach
Quite possibly the best realtors in the nation. They are incredibly knowledgeable about the market. Satisfaction guaranteed!
Nate Johnson
Ted is exceptional. The amount of care he puts into his work (on both buy and sell side) shows in all that he does. And, he is incredibly knowledgeable and flexible. To illustrate, we have now bought two houses with Ted. For both, Ted knew everything about the neighborhood and was always available to schedule a showing, run assessment of comparable homes, and recommend inspectors and contractors. Both houses were bought at what we would consider a bargain compared to other homes in the [...]
Eugene & You Temchenko
Contact
Hi there! How can we help you?
Contact us using the form below or give us a call.
Hi there! How can we help you?
Contact us using the form below or give us a call.