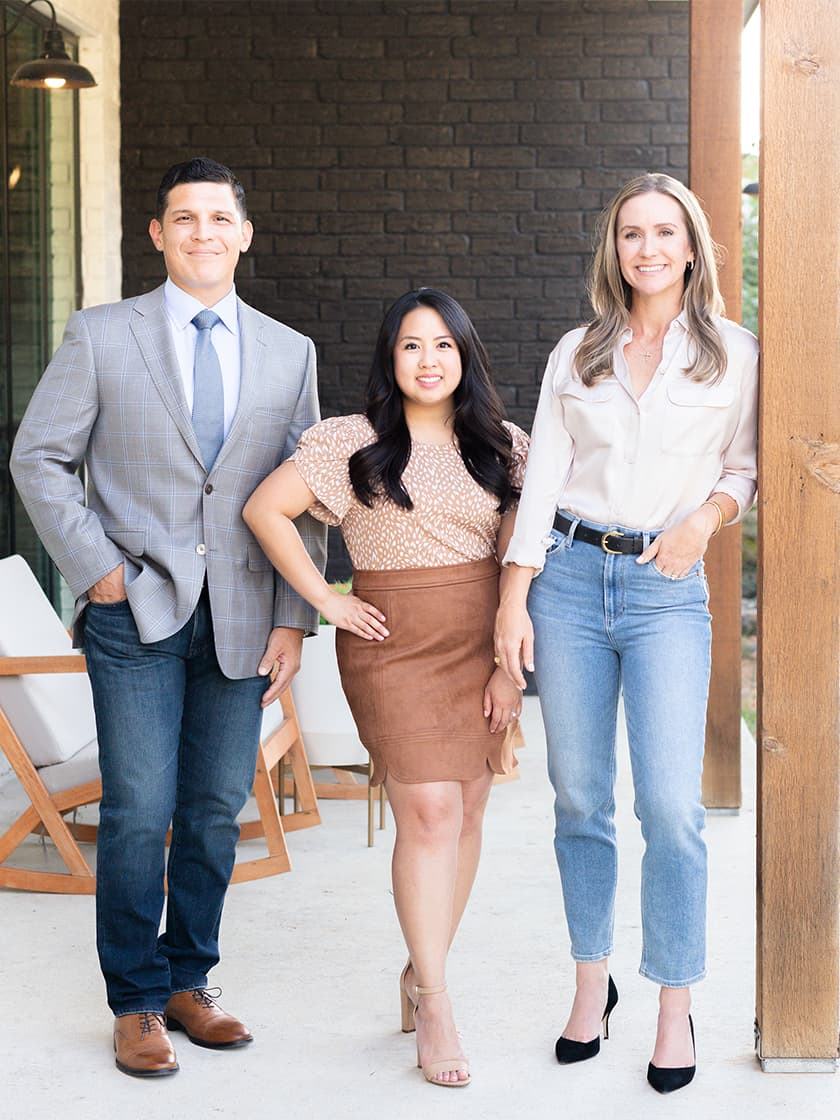 Global Real Estate Advisors
"We are firm believers that this business is all about service.
The truth is – we don't sell houses. What we do is help people."

Devon and Alberto Reyes are both West Point graduates and former Army Officers with multiple combat deployment experiences in Afghanistan. Hailing from Houston and Los Angeles respectively, they moved to the Dallas-Fort Worth area in 2014 not knowing a soul or a street. They had two goals in mind: start a family and launch a business in real estate. Five [...]
"We are firm believers that this business is all about service.
The truth is – we don't sell houses. What we do is help people."

Devon and Alberto Reyes are both West Point graduates and former Army Officers with multiple combat deployment experiences in Afghanistan. Hailing from Houston and Los Angeles respectively, they moved to the Dallas-Fort Worth area in 2014 not knowing a soul or a street. They had two goals in mind: start a family and launch a business in real estate. Five children, a successful real estate team and over 350 transactions later, Devon and Alberto have gone from "having a plan" to finding their calling.

They are top producing agents – from 2015 and every year since – who proudly call Briggs Freeman Sotheby's International Realty and Fort Worth home. Since 2020, they have helped over 200 families move, they have closed nearly $90 million in volume and they were recognized as the most requested team for incoming referrals from external offices. They are honored at having been recognized as one of the top two producing teams in the Fort Worth office, ranking in local publications with 360 West and Fort Worth Magazine for several years, and being nationally-ranked Dave Ramsey Endorsed Local Providers. Most recently, they were ranked in the top 1.5% of all real estate professionals nationwide by RealTrends – America's Best. Erin Isaac, an exceptional teammate and Fort Worth native, is the most recent addition to the Devon & Alberto Team. Her warmth, attentiveness, and servant's heart has elevated every aspect of service to their clients.

Their approach to real estate is simple: do everything with excellence and empathy in mind. Devon and Alberto are consummate researchers and exceptional listeners. They are creative marketers and "out-of-the-box" problem-solvers. They are detail-oriented, collaborative planners, process-oriented and flexible. And they pride themselves on overcommunication.

Every home and client deserves – and receives – their utmost consideration, service and expert advice. As such, they are thrilled that their affiliation with Briggs Freeman Sotheby's International Realty ensures that each of their clients benefit from million-dollar resources and support, regardless of price point or location. Moreover, Devon and Alberto can connect their clients with top-tier professionals across the globe – enabling them to help anyone move anywhere, while knowing that their clients are taken care of by the best in the business.

Their proven processes and personal connection to each of their clients are why they have been top producers and recognized leaders in their office and in the local market for four years and counting. It is why Devon's and Alberto's clients return and refer to them time and time again.

Watching their clients realize their dreams… it's why they love what they do.
"In Service, Always." Devon and Alberto Reyes

Designations & Awards
President's Circle Recipients: Briggs Freeman Sotheby's International Realty – 2020, 2021
Leader's Circle Recipients: Briggs Freeman Sotheby's International Realty – 2017-2019
Top Realtors, Best Realtors, Fort Worth Magazine, 360 West Magazine – 2016-2021
Top Producers – 2015-2021
Spirit in the Sky Award, Briggs Freeman Sotheby's International Realty – 2016
Military Relocation Professionals
Dave Ramsey Endorsed Local Providers

Volunteer Services and Membership
Saint Andrews Catholic Church and School
Field Force Recruiters & West Point Society of North Texas
Office Location
4828 Camp Bowie Blvd
Fort Worth, TX 76107
Specifications
Languages:
Specialties:
Service Area:
Devon's Testimonials
I couldn't have gotten through this process without the professional support and advice from Devon Reyes. She streamlined information for me, at my request, and it helped me to stay out of overwhelm. I feel like Ive made a new friend as well.
Mary Curtsinger
We have had the pleasure to work with Devon and Alberto Reyes twice over the years. Both experiences were nothing short of excellence. They truly are dedicated to ensuring their clients are receiving the best advice at all times. They are always able to answer questions, concerns, or just ease some of the panic that comes with buying and selling. We count ourselves truly lucky and grateful to have been able to meet them. We will miss not being in an area where they are not part of the team but [...]
Blake and Lauren Bowen
I have bought and sold more than a dozen houses in the last 20 years in the military. The Reyes team was by far my best experience to date. They came with historical data and property details that were exceptional. Once it was all laid out we came up with a game plan on how to sell. They were attentive and responsive. Even in a cooling market I had confidence that my house would sell. I cannot thank them enough. The best experience ever. GO NAVY!!!!!!!
Nikolas and Anna Fialka
It has been a pleasure working with Devon. We would highly recommend her to anyone. She's extremely professional and responsive.
Katherine Amoukhteh
Devon Reyes and Alberto Reyes are amazing. We set a new high price-per-square-foot record in the neighborhood! We couldn't have been in better hands, and neither can you.
Ronny and Dorothy Y.
I'm not sure about recommending the company so much, but the real estate agent I sure would. Devon was great! She would get my business regardless of the company she works for.
Estebania Munoz
We had such a great experience with Devon Reyes that I'm not even sure where to start. She got us our dream home - on a multiple-offer home under an existing contract, no less. She then far exceeded our expectations with our old home, pointing us to just the right touch-ups to sell it quickly.
Peter and Christina G.
Devon and Alberto and an amazing team to have on your side. They go above and beyond with everything and their attention to detail is excellent. Above everything I think what makes them such a good team to have is their personality and actual caring for their clients.
Shane Larsen
Devon was great to work with. She took the time to understand what we wanted and delivered.
Peiman and Katherine Amoukhteh
Devon and her team were great to work with. We had a situation where a family member died and sold their residence during a probate case, so there were some moving parts. Devon was detail-oriented, helpful, and patient during the process. I would highly recommend her and her team for your real estate needs.
Kosuri B Raju
Contact
Hi there! How can we help you?
Contact us using the form below or give us a call.
Hi there! How can we help you?
Contact us using the form below or give us a call.